TRANSCAER Fundraiser - In Support of the Hazmat Team Response Fund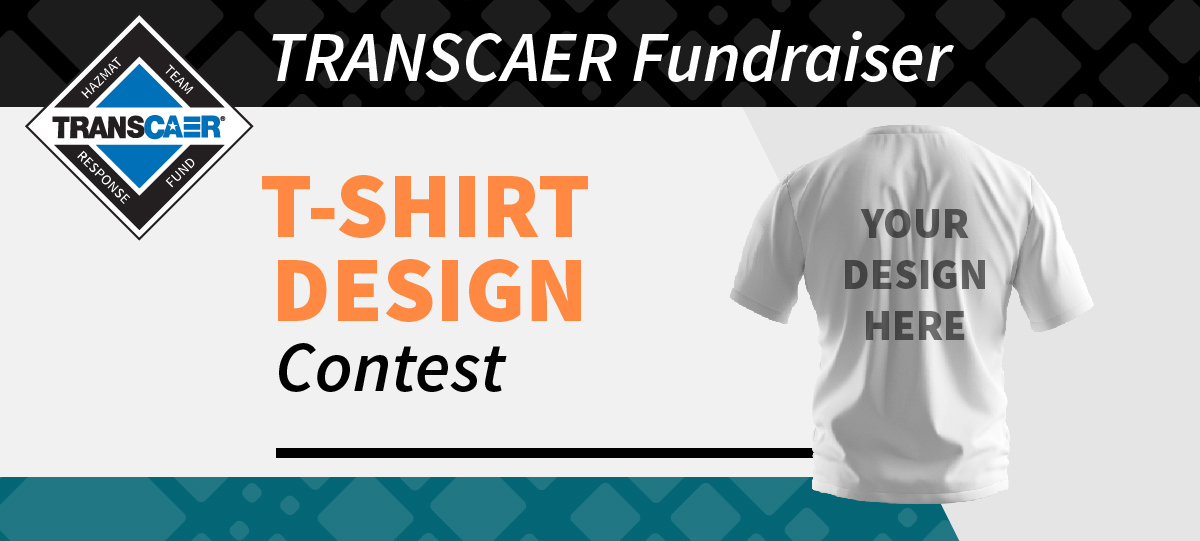 About
The TRANSCAER Fundraiser is our latest initiative to support the Hazmat Team Response Fund, honor the incredible dedication of our first responders, and engage with the hazmat community.
T-Shirt Design Contest: 
Enter our design contest for a chance to see your creative masterpiece featured on the exclusive TRANSCAER® Hazmat Team Fund apparel. The winning design will be showcased in the TRANSCAER today magazine, quarterly newsletter publication, and across our social media platforms. The winner will also receive a FREE t-shirt with their unique design.
The winning design will be featured on the back of a t-shirt and/or sweatshirt, complemented by the distinguished TRANSCAER logo on the front. 
Scholarship Opportunity: 
As an extra perk, the winner of the t-shirt design contest will also be awarded a scholarship to attend a 2024 hazmat conference or hazmat training of their choice*.
*The training must be hosted by a TRANSCAER Sponsor or if attending a hazmat conference, a TRANSCAER Sponsor must be one of the presenters.
Support the Cause: 
Show your support and snag this exclusive apparel. The 2023-2024 TRANSCAER Hazmat Team Fund apparel will be available online for purchase after Monday, November 13, 2023. Each purchase will directly contribute to the Hazmat Team Response Fund, established to assist hazmat responders in acquiring hazmat response equipment and advanced training to protect themselves and their community when responding to hazardous materials transportation incidents.
The apparel will also be available for purchase at various events and hazmat conferences where TRANSCAER will participate, throughout 2024. 
100% of the proceeds earned from the t-shirt fundraiser will benefit the TRANSCAER Hazmat Team Response Fund to support hazmat teams across the United States. 
Learn more about the TRANSCAER Hazmat Team Response Fund. 
Design Guidelines
Design must be for the back of the shirt only

Design must be one color

Design must be hazardous materials/transportation themed and align with the TRANSCAER mission

DIGITAL DESIGNS: Must be in high resolution and to be submitted as a .jpg, .png, .pdf, .ai, .eps, or .psd file
Eligibility/Entry
There is no entry fee to submit a design. Only one design submission per contestant. Designs must be your own work. If you are under the age of 18, you may create a design, but it must be submitted on your behalf by a parent or guardian. You must be a first responder affiliated with a volunteer or career fire department, EMS, or law enforcement organization to enter the contest. 
2023 Important Dates/Timeline
Design Submission Deadline (1 per contestant) 
Sunday, October 1, 2023
Voting by National TRANSCAER Task Group Members 
Week of October 3-17, 2023
Announcement of contest winner 
Tuesday, October 31, 2023
T-shirts/Sweatshirts available online for purchase
Monday, November 13, 2023
TRANSCAER Hazmat Team Response Fund T-Shirt Design Contest
* Required
This form is unavailable.
You may need to disable an ad blocker or enable JavaScript in your browser.